For the first in a series of exhibitions showing how a book is made, The Folio Society, documented the making of their limited edition Edward Thomas: Selected Poems with illustrations by David Gentleman. We displayed the progressives, page proofs, publisher's notes, decorated paper samples and hot foil blocks used in the production of this book.
Overview: Selection of poems by Edward Thomas, introduced by Andrew Motion, set in Monotype Bembo by Gloucester Typesetting, and printed on Zerkall mould-made paper by Stonehouse Fine Press. With autolithography illustrations by David Gentleman, printed by Curwen Press. Bound in quarter leather by LEGO with paste-paper sides by Victoria Hall. Slipcase blocked with design by David Gentleman.
HAND-CRAFTED PAPER BY VICTORIA HALL
Hand-patterned paste-papers, valued for their durability and beauty, have a long tradition as a material for bookbinding. In a process that has seen little change in the hundreds of years since it was first used, sheets of paper, after being dampened and left a short while to rest, are brushed with a coloured starch paste, producing by cooking a combination of flours.
A pattern is then worked into the paste using a variety of handmade tools and combs. The papers, at their most fragile at this stage, are put aside to air-dry for several hours before being pressed and patterned again. Once dry, they are flattened in a cast-iron standing press.
For this volume, Victoria Hall has drawn inspiration from the landscape that inspired Edward Thomas's poetry. Experimenting with several textures and various shades of green, she developed an organic design, embodying natural rather than geometric forms. The result is wonderfully redolent – in texture and colour – of the grass and moss of the English countryside. Each paper is unique, mirroring in design and form the endless complexity found in nature.
THE ART OF LETTERPRESS PRINTING
The distinctive qualities of letterpress have long been appreciated by lovers and collectors of fine books. Like poetry itself, letterpress editions appeal to the senses: the smell of the ink on the page, the feel of the grain in the paper and the slight impression left by the hot-metal type.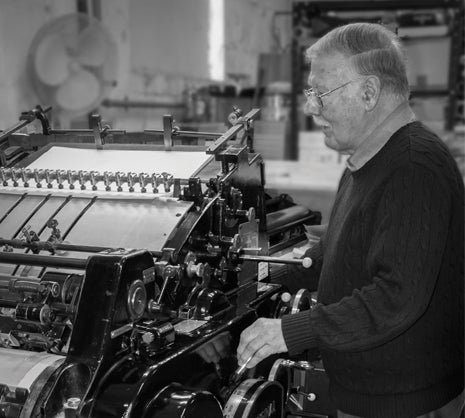 The simple elegance of a letterpress page belies the skill that the belies the skill that the medium demands. A labour-intensive process, the task of setting and printing this edition fell to Stan Lane, a master compositor with 60 years' experience of the craft. Printed on a classic mould-make paper, the text has been generously set, allowing the poetry room to breathe, and providing a clarity and intensity of line perfectly at one with Edward Thomas's verse.
ILLUSTRATIONS BY DAVID GENTLEMAN
David Gentleman was commissioned to create new illustrations for this limited edition. His work as an artist and illustrator, spanning a career of more than 60 years, is rooted in the English artistic tradition. Born in 1930, he studied illustration under Edward Bawden and John Nash at the Royal College of Art, a time that instilled an appreciation for craft, design and the pastoral that is everywhere evident in Gentleman's art. He has worked an exceptionally wide range of formats: his wood engravings have appeared on the covers of numerous Penguin editions as well as a 100-metre-long mural at Charing Cross London Underground station; he is the designer of more than 100 stamps for the British Post Office; and his watercolours and lithographs feature in countless publications. Like Edward Thomas, David Gentleman has a particular talent for capturing the spirit of a place, and much of his creative output sprints from his close observation of the natural world made on his own country walks, particularly around his house in Suffolk. His work for Edward Thomas: Selected Poems prompted him to tread in Edward Thomas's footsteps, travelling to Steep in Hampshire to sketch the house Thomas describes in 'The Manor Farm'. Gentleman's beeches are based on those on the hillside behind the farm, white the trees for his 'In Memoriam (Easter, 1915)' lithograph are portraits of 'old friends in Suffolk'. As Gentleman himself acknowledges, poetry offers an artist a specific challenge; artwork should accompany rather than illustrate verse, reflecting tone and atmosphere without 'stepping on the toes of the poem'. David Gentleman's lithographs, quietly fresh and intricately detailed, do just this, while the gently recurring imagery of pathways and trails are evocative of the roads taken – and not taken – that were such a dominant feature of Edward Thomas's life and work.
THE AUTHOLITHOGRAPHY PROCESS
The printing process of lithography (literally, drawing on stone) was invented in 1796, and quickly became recognised as the best method of reproducing works of art and other images in colour. Highly skilled craftsmen would interpret an original image by eye, drawing separations of different colours which were then re-combined on the printing press to create a faithful reproduction of the original.
In the early 20th century a number of artists in Europe and America begin to experiment with producing their own colour separations, creating in the process a new artistic medium, in which translucent colours could be overprinted to striking effect. Thus autholithography was born; its practitioners in Britain including Eric Ravilious, Elisabeth Frink, Henry Moore – and technically the finest of all – Barnett Freedman. When making a lithograph, the artist works directly on the printing medium (be it stone, zinc plate or film) and therefore every image is an original print, not a reproduction of a pre-existing work. This gives lithographs – and books containing them – a particularly strong appeal to collectors, especially when signed by the artist as is the case with this limited edition from The Folio Society. David Gentleman is a central figure in the British tradition of autholithography. Among his earliest work was a contribution to the Lyons lithographs series, alongside Edward Bawden, John Piper and others, and he has continued to return to this medium throughout his long creative life
We have one copy of of this limited edition (1250 signed and hand-numbered by David Gentleman) from The Folio Society for sale at a special price of £150.
Contact Emma Balch info@thestoryofbooks.com / Tel: 07879 373431
Stan Lane visiting The Story of Books with Paul Kidson (Ludlow Bookbinders), Graham Moss (Incline Press) and Eckehart Schumacher (Schumacher Gebler).
Master printer Stan Lane and print collector and expert, Eckehart Schumacher, from Dresden, tucking into 'Printer's Pie' on their visit to The Story of Books in Hay-on-Wye.
With thanks to Joe Whitlock-Blundell, Tom Walker, Vicky Traino at The Folio Society in London, to Victoria Hall in Norfolk, to Stan Lane in Gloucester, and to John Morgan, Old Forest Arts and to Vladimir Micic for their help in Hay-on-Wye.